February 2017
3 Churches Mass and Nunc Dimittis have been selected for the 2017 London Festival of Contemporary Church Music.
January 2017
Janya (written for Jan Modelski Chamber Orchestra as part of the Adopt A Composer project) was broadcast on BBC Radio 3 on 23rd January (my first radio broadcast)! You can listen to the whole piece below:

I'd love to hear from any orchestras interested in giving the second performance (will need a fairly large woodwind section).
God To Enfold Me had its Italian premiere (and, I think, the first performance of my music in Italy!) on 21st January, sung by Arco Antiqua. See the score and buy from NoteNova.
Afton Water is now recorded – listen on YouTube, and it can be purchased from Spartan Press (as part of a three-part set of arrangements for SABar choir).
December 2016
Wimbledon Choral Society premiered "Adeste Fideles" (a new commission) on 17th December, 6pm in St Paul's Southfields, London. See the score here (it's for SSAATBB and organ, could be rearranged on request). Listen below!

Welcome Carol was recorded by John Thomson and Inverness NYCoS choir as part of #choirsagainstracism – hear it here:

It was premiered the previous week by Dingwall & District Choral Society, again conducted by John Thomson – read the review here: "The evening finished with a new work by Edinburgh-based composer Chris Hutchings. Part of a project entitled "Choirs Against Racism", the Welcome Carol was both catchy, enjoyable and meaningful." Get a copy for your choir for FREE as part of #choirsagainstracism – it's easy, unison (can be sung with guitar or piano) and can be learnt in five minutes.
A big thank you to Alison Willis, who has contributed another work for #choirsagainstracism – "THEY" for 1-2 part choir and piano, with text by Chris Hutchings. Score and recording are available at the #choirsagainstracism page.
November 2016
Many upcoming Christmas performances!
Inverness NYCoS choirs will give a performance of "Welcome Carol" from #choirsagainstracism on 10th December, 2pm in Culduthel Christian Centre, Inverness;
Voces Inauditae will perform "In The Bleak Midwinter" in a concert on 2nd December, 4pm in Old St Paul's Church, Edinburgh;
New College Choir in Edinburgh will also be singing "In The Bleak Midwinter" in their carol service on 9th December;
Cumbernauld Choir will sing "Child In The Manger" in their Christmas concert on 9th December, 7.30pm in St Mungo's Church Hall, Cumbernauld;
and Wimbledon Choral Society will premiere "Adeste Fideles" (a new commission) on 17th December, 6pm in St Paul's Southfields, London.
The Oriel Singers of Cheltenham and Pembroke College Choir, Cambridge both performed "Do Not Stand At My Grave And Weep" for Remembrance Day concerts. Listen to a demo below:

October 2016
A new project – Choirs Against Racism, including a new piece with lyrics by Michael Rosen (Children's Laureate). All the music on that page will be free to use for political causes against racism, xenophobia and hatred. #choirsagainstracism
The score for Mary Morison (SSATB) is now published – see it here. Suitable for most choirs, could be learnt by ear, £1.50 per copy or £25 for a PDF. Thanks to to the Deutscher Chor of London who premiered it in Buckingham Palace earlier this month!
Thanks also to Icosa Choir for premiering The Lord's Prayer this month! Recording now up on Soundcloud!
Some lovely feedback from Neil Ferris at Wimbledon Choral Society: 'I am really delighted with Chris's carol for WCS and we are all looking forward to performing in December. It has all you could want for a carol; jaunty rhythms, beautiful harmonies and a noisy finish!' They'll premiere "Adeste Fideles" on 17th December – details on the Wimbledon Choral Society website. If you'd like to commission a piece from me, more details here.
Also you can now listen to the recording of Janya, my piece for Adopt A Composer, performed by the Jan Modelski Community Orchestra!

August 2016
Some upcoming performances to announce!
The Lord's Prayer will be premiered by Icosa Choir in London in October;
Mary Morison was commissioned by the Deutscher Chor London and they'll premiere it in Buckingham Palace(!) in October;
Thou Knowest, Lord, The Secrets Of Our Hearts will be performed by Libricini in Norfolk in October;
Child In The Manger will be performed by Cumbernauld Choral Society this Christmas;
Adeste Fideles was commissioned by Wimbledon Choral Society and will be premiered in St Paul's Wimbledon this Christmas;
Do Not Stand At My Grave And Weep will be performed by the Oriel Singers in Cheltenham in November.
Thanks to all of the above – more details coming soon!
And two new two-part arrangements added – Loch Lomond and A Red Red Rose. Both are written for SA but could be performed by any 2-part group – single copies of each are 50p, and a PDF to print infinite copies is £10 (or £15 for both together).
July 2016
Thanks to all involved in "Janya", which had a wonderful premiere on 9th July! Here's my write-up. I'd love to hear from anyone interested in giving the second performance – it's ideal for community orchestras, and I'm working on rescoring it to make it more flexible in instrumentation. If you'd like to see the score, please email me.
Here are a few comments from the premiere:
"It was fantastic and the group seemed to love performing it, it suited them so well and pushed them into new areas (loved the sound effects)"
"The piece by the young composer was absolutely brilliant and the orchestra played it beautifully! It seemed as if he composed it using the orchestra's constellation eg strong brass section as a strength. I loved it"
This was commissioned through the Adopt A Composer scheme by Sound and Music, PRS Foundation and the Dorothy Green Trust.
June 2016
I wrote some programme notes for Janya, my #AdoptAComposer piece – here they are! The concert will be on a BBC Radio 3 broadcast, I'll update this once I know.
I'm also very happy to announce two more forthcoming commissions – a new Christmas piece for Wimbledon Choral Society, and a new piece for Napier University Chamber Choir in 2017! If you'd like to commission a piece for your choir, please get in touch.
April 2016
Final score and parts have been sent off for #AdoptAComposer, and I was in Chester on 23rd April for a final session with the orchestra. Here are some of the orchestra and me with the little elephant (statue) who inspired the piece: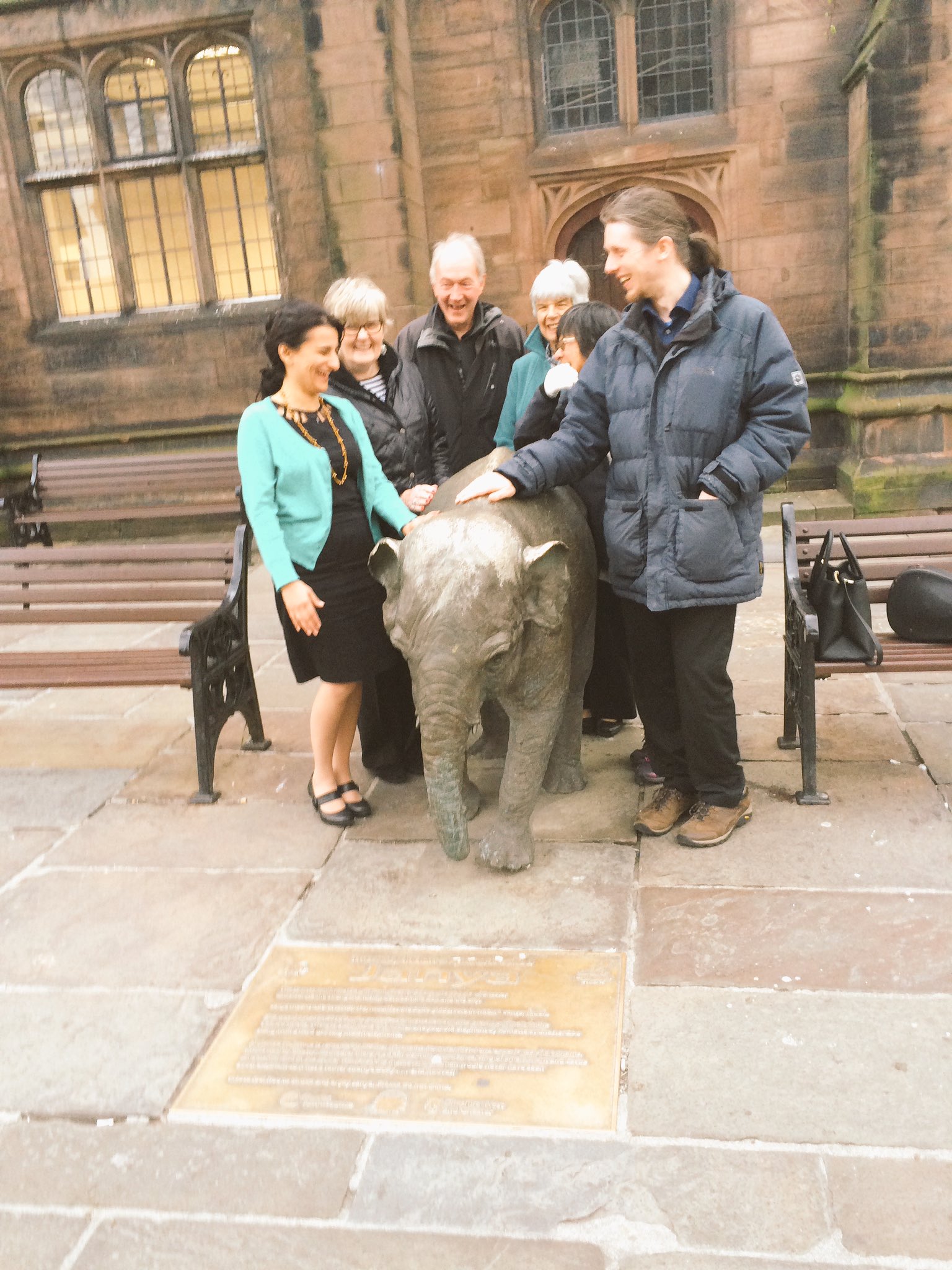 Here's the recording of "Dominus Regnavit" from last month (by Christ Church Cathedral Choir, Oxford):

And I've just finished a commissioned arrangement of "Mary Morison" for the German Choir of London, which will be performed in Buckingham Palace in October! Copies will be available after that – email me if you'd like to see a sample (it's for SSATB, suitable for amateur choirs, especially if you have more voices in upper sections).
March 2016
My folk song arrangements of Ye Banks and Braes (2-part) and a set of three for SABar (Afton Water, A Red Red Rose and Jock O' Hazeldean) are now available from Spartan Press.
I was delighted to be one of the composers selected for the final stages of Bristol University's Old Hispanic Office project for composition – 10 choral composers and 10 instrumental composers were selected. Instrumental works were performed by Kokoro Ensemble, and the choral works by Bristol Cathedral Choir and Christ Church Cathedral Choir, Oxford – the latter group included my Dominus Regnavit for SATB choir and organ!